Thursday, October 17th, 2013
Okay. What is happening? Let's see.
New True Loves 3 is up. Ever closer to the end. This weekend is the Bio/Graphic art show reception and panel discussion on Sunday in Deep Cove. The show is on for the next month, so if you are feeling like an adventure into the wilds of the north shore, check it out.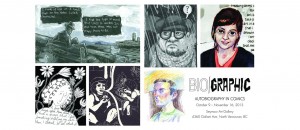 I read the second part of Patrick Farley's Steve and Steve. Quite enjoyed it. I'm rereading Scott Pilgrim and in addition to being an absolute delight, it captures being young and living in the Annex in Toronto so well.
I have pencilled a few pages of my new comic The Adulation. I guess at some point I will have to figure out what to do with it. I have been trying to do a warm up drawing to get myself rolling here are a couple. The first one is a house I saw in Lynn Valley a while back. The second one is from this crazy page of Google Street View pictures.